Weather Services Pro 1.7.6 (Android)
Overview: Weather Services is a new weather app with Clock, 6 widgets and graphic themes.

Requirements: Android OS 2.1 and up

Market Update Released: October 3, 2012

Price: $3.61
https://play.google.com/store/apps/details?id=com.clockweatherpro
What's New in Weather Services Pro version 1.7.6:

Fixed: Dual clock text alignement

Small UI fixes
*** NEW MOON PHASE ***

*** NEW WEATHER ALERTS AND HOURLY CLOUDINESS CHARTS ***

*** NEW HOURLY FORECASTS AND DETAILED CHARTS ***

*** NEW THEMES UPLOAD – create and share your own theme with other users ! ***
Get the latest current conditions, forecasts, weather charts, forecast maps, webcams and more with largest network of professional weather stations all over the world in a great looking style!
FEATURES, or what makes this a FULL PACKAGE:

========

CORE FUNCTIONALITY:

- Live and detailed local weather conditions and forecasts

- Access up to tens of thousands locations around the world

- Exact dynamic and automated current location search with 'My Location' functionality

- 6 desktop weather widgets with (Flip Clock 4×2, Forecast 4×2, Large 4×2, Forecast 4×1, Clock 4×1, Mini 1×1)

- Notification bar icon witch temperature and weather details

- Up to 10 active locations
COOL FEATURES:

- Live Webcams for every location to see the real weather conditions (largest webcams network)

- Forecast Charts

- Weather Forecast Maps for precipitation, clouds, temperatures and wind (also in HD available)**

- Choose weather data provider which fits your location best (WeatherBug, Google weather or YR.NO)

- Moon phase
MAKE YOUR APPLICATION UNIQUE:

- THEMES – customize your app by one click or create your own !

- Fully graphical customizable (font types, backgrounds, colors, text outline …)

- Fully customizable app settings (units, startup, updates, notification bar…)
OTHER USEFUL ATTRIBUTES:

- One of the best battery consumption application on the Market

- Quick access to your default clock and calendar applications

- Cached weather data for offline viewing

- Easy use and high-impact visual eye candy views

- Broad OS compatibility: Android 1.6+, QVGA, WQVGA400/432, HVGA, WVGA800/854
And there is more to come, we develop and improve our app continuously.
If you like Weather Services-RATE US. Thank you and enjoy!
IMPORTANT

=========

If you are experiencing any issues, please make sure your data connectivity is up & running. Vast majority of our low ratings are because of local issues, please contact us and let us help you first:
Relase notes:

=============

If you have any ideas, how to improve our application, please let us know.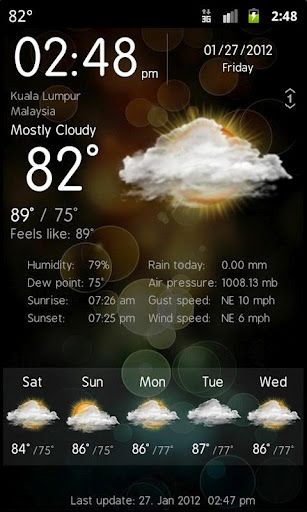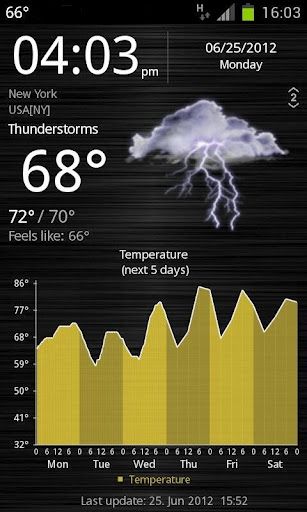 Download Weather Services Pro 1.7.6 (Android)
http://ul.to/mf0m6lxo/ws.1.7.6.Android.zip
The post Weather Services Pro 1.7.6 (Android) appeared first on Megandroids.